The Flemington Stables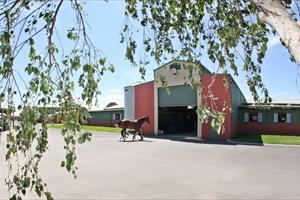 The Melbourne stable can accommodate up to 40 horses and has access to all of Flemington's first-class facilities. There are two grass tracks for gallops, two sand tracks for trotting and cantering, a dirt track and a synthetic pro-ride all weather surface. The stable itself has a sand roll, horse walker, bright open areas and large stables for the horses to reside in. A back gate allows access via safe walkways to all tracks and the swimming pool.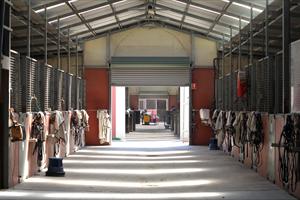 The facility is first class and the envy of trainers at other training centres around Australia and the world. Please contact us to arrange an appointment to view our stables and meet the team if you want the best place for your horse to train.
Flemington Stable video feature
The Flemington stable played host to the Proteq Equine Bedding crew who used the location to shoot video for their leading horse bedding product. The results were fabulous and gives a great overview of the Flemington set up.
Location
Kavanagh Racing's Stables and Head Office are located at 3 Stables Drive Flemington Racecourse
The stables are on course and entry is via Smithfield Road at the south east end of the Flemington racecourse as shown on the map below.