Life after Racing: Catapulted the Super Nanny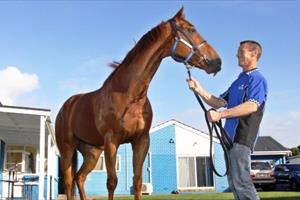 In 2007 Mark Kavanagh purchased Catapulted as a yearling from the Adelaide Magic Millions Sales for $90,000. He was a nice looking Colt and several stable clients raced the horse in partnership. Those lucky owners had an excellent ride of all racing has to offer, including both highs and lows.
As a 2YO Catapulted had four starts and was a metropolitan winner on two occasions. However after a few celebrations, his owners were struck with bad news. He had developed a bad case of colic as a 2YO and almost died. If not for an operation to save his life he would not have gone on to reach the heights that he did in his career.
He came back from a long spell after his surgery and went on to win 12 of his 34 starts for prize money earnings totalling nearly $900,000. His career highlights included a second placing in the Group One Goodwood Stakes and a win in the Group Two BTC Cup. He also won at Group Three level on three occasions as well as Listed level on another three occasions. He was certainly an exciting horse and his owners got to enjoy him racing all over Australia, winning black type races in South Australia, Victoria and Queensland.
Last year the decision was made to retire Catapulted. He had done a great job throughout his racing career and his owners wanted to reward his courage with retirement. There were plenty of options for life after racing with the owners considering giving someone the chance to teach him equestrian.
It was decided however that Catapulted should retire to the Kavanagh farm Marbellesa Park in Gisbourne. The farm is used for spelling and pre-training the stables racehorses and there are large paddocks with rolling green hills.
But don't worry, Catapulted is not spending his retirement as an overgrown lawnmower out to pasture. No, he is earning his keep as a nanny to the yearlings that are purchased each year. He is currently in a 40 acre paddock with the two-year-olds that were purchased last year. His job is to teach those young horses manners, how to run fast and hopefully empower them with the will to win. He is also visited regularly by some of his fans to give him a pat and a carrot and have their picture taken with him.
[20/01/2014]