Spring plans for Sandown winner Oltre Finito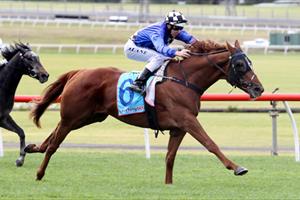 Challenging chestnut Oltre Finito made a successful transition to city class yesterday with an easy win at Sandown.
The three-year-old, who has claimed both jockeys Glen Boss and Steven King with his intractable antics, registered his second win for apprentice Damian Lane but not before testing that jockey pre-race in the mounting yard.
Once in the hands of the clerk of the course however Oltre Finito returned to his best behaviour and raced without incident. He quickened nicely in the straight to record a three quarter of a length win over Digitalism with a further two and a quarter lengths to Union Gap in third.
"Yeah he is (smart)," jockey Damian Lane told TVN.
"I mean he has a few problems mentally - he's just a big kid still - he thinks it's a game. Once he puts the pieces together he's going to be a good horse".
Trainer Mark Kavanagh restricted Oltre Finito to the quieter provincial circuit for his first two starts and the blustery conditions at Sandown yesterday did ruffle his feathers a bit.
"We've never had a doubt as to his athletic ability, but he has tested a couple of old fellas like me and Mark," said stable foreman Merv Harvey. "He'll go to the paddock now for a break".
Picture courtesy of Gary Wild / Slickpix
[16/05/2013]