Oltre Finito breaks through at Ballarat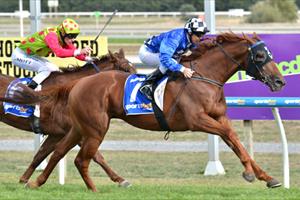 Iffraaj gelding Oltre Finito has given trainer Mark Kavanagh more than a few anxious moments and even when he crossed the finishing line at Ballarat in first place on Sunday the trainer's sense of relief was to be short lived.
Oltre Finito was primed to make his debut in August last year but the (then) highly spirited colt dislodged his rider on the way to the gates, went through a running rail and was injured.
Returning to the races for the first time since being gelded Oltre Finito paraded well and passed his first test when he arrived safely at the gates under the guidance of the clerk of the course.
He duly saluted as 2.35 favourite racing handy to leader Just Cause before claiming that horse in the straight and drawing away for a one and a quarter length win.
The post race celebrations were cut short however when Oltre Finito dislodged jockey Steven King when pulling up. The horse was caught un-injured but unfortunately the same could not be said for King who was later found to have fractured multiple bones in his foot.
King, a hardened veteran who has just returned from a riding stint in Singapore, was typically stoic and filed his post race report to trainer Mark Kavanagh from his stretcher in the first aid room.
[23/04/2013]