Kav Racing Hots up!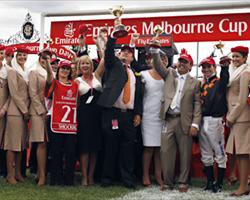 It may have been a quiet Spring, but Kavanagh Racing's team has been set for the Summer period. With a lot of inexperienced young horses set to race in the next few months the stable is happy with their decision to bypass the Spring and take advantage of the excellent pastures and give their horses a little more time, and the way the horses have developed is testament to the fact they made the right move. 
Melbourne Cup winning trainer Mark Kavanagh has the biggest team he has had for quite sometime with some exciting young stock heading back to the race track. "The horses have done so well during the Spring they look like totally different horses this time in. They have grown, and they have strengthened up nicely and I am expecting them to reward my patience. This is as happy as I have been with my stable for quite some time and I'm expecting them to provide the stable with a great run through summer".
With the first of the stock likely to hit the track next week it is an exciting time for the stable that's going through a rebuilding stage. "It's been a tough transition but there is now renewed confidence in the stable and a lot of our owners have returned. We lost a few years competing at the top level but we are confident this new stock can fly the flag for us."
Kavanagh racing prides itself on providing a superior product and exceptional customer service with some new digital innovations available for clients of the stable. "It's all about our owners and their needs in a rapidly changing digital environment. Our social media presence has increased but we are also determined to look after our current clients, providing them with personal updates and new innovative communications."
The stable recently held a competition, giving away a 2.5% share in Jewel Racing's Charm Spirit x Black Beauty colt and we were pleased to announce Rodney Rowles as the winner. "It's great that we can welcome some new blood into the stable and hope Rod enjoys the ownership experience. This colt is a very impressive type and already shows above average ability, I'm sure he is going to have some fun with him. The prize was designed to give a bit back to the consumer and create awareness that we are ready for business and we are really happy with the outcome".
It's fair to say we should be keeping a close eye on the blue with the black and white checked sash over the next few months.
[21/11/2018]